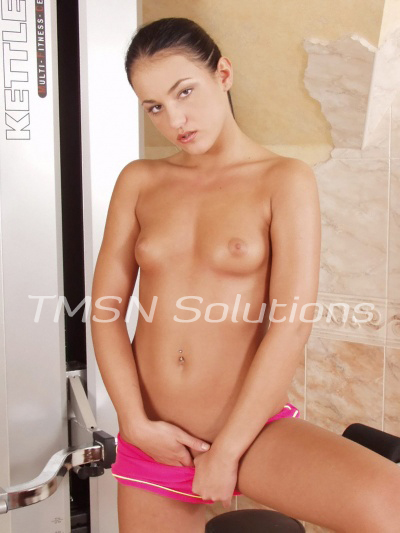 Avery  1-844-332-2639 ext. 228
I know how much everyone loved part 1 of this blog. I had lots of sissy boys telling me they couldn't wait for part two. Well, your patience is being rewarded my loves. It's time to take it to the next level with my sweet, sissy slut….
Shannon stood there before us. I could see Emily trying to take it all in. Staring at her feet and slowly gazing all the way up. Her long silky legs were shining and sexy under the fluorescent lights of the change room. As Emily worked her way up Shannon's body she blushed when she got to her thick strap on.
"What's wrong? You've seen one of these before Em. I know you've watched me use one before. I can always tell when you're spying on me" Shannon said. "Please don't be mad!" stuttered Emily, "I just never knew how it worked and was curious that's all!". Shannon suddenly had a huge smirk on her face… "Oh….you want to know how it works huh? Don't worry my sissy sister, you'll be a pro by the time I'm done with you"
Emily gulped and whimpered "ok…whatever you say". Up until now is been in the corner watching. Eagerly waiting for the show to start so to speak. That's when Shannon turned to me and handed me a strap on too. "She needs A LOT of practice Avery so you take the front and I'll take the back". She directed me to sit on the bench in the change room spread eagle. I obeyed. Shanon almost had me under her spell too. It was hard to resist her.
I sat there, legs spread waiting for her next commands. Instead of forcing Emily to bend over right away she pulled a cock cage out of her bag, got down on her knees, slipped down the silk panties Em was wearing and tightly secured it to her hard little clitty. "We don't want you doing anything silly like cumming now do we?" said with a laugh as she pulled the panties back up. Then she gave it a few spanks to make sure it was on properly before standing back up.
"Now. You're going to need an extra pair of panties on before we go any further. I don't want anything dripping on the floor and sissies like you always make big messes even when I tell you not to. You just can't help yourselves can you? Pathetic really". After Emily was double panty protected Shannon helped her into a pastel pink bra and then slipped a cute summer dress over her quivering body.
"How do you feel?" Shannon asked. "Like your sexy sissy slut" Em replied. "Good!" Said Shannon, "Sluts like you love sucking cock and I know you've been watching me suck forever so you better not disappoint me. Show me how you suck Avery's cock". Emily got down on her knees in her sweet little sundress and looked right into my eyes. I saw fear mixed with sex. My little sissy loved this. "Take a deep breath and relax" I said to her as she took her first big thrust and started to choke.
Emily closed her eyes, took a deep breath and then seemed to relax as she took me deeper and deeper. Shannon was right beside her. In her ear. Telling her what to do. Guiding her on how to suck my strappy. I was so proud of my baby girl! She was a dick sucking champ. But…I could tell she was getting uncomfortable in her cage. That little clitty of hers must have been rock hard the way she was squirming around and letting out little moans.
Shannon noticed it too and slowly started to stand up. Our sweet little Emily was so into sucking my strappy she didn't even notice her sister move behind her and then pull her panties to the side. I was watching everything. I had the perfect view. I saw Shannon lube up her huge, black strappy, grab it with her hand and not hesitate, even for a second, as she slid every inch of it into Emily…
I also saw, up close, the look on her face when this happened. My cock still was in her mouth when she first felt Shannon fuck her. Em's eyes welled up with tears but then slowly shut as the most intense pleasure rushed over her. A cock in her mouth and one in her pussy while the silky panties were rubbing against her caged clit. Shannon worked that new pussy and her sweet little sister melted into her. It was so intense to watch.
After Shannon was satisfied with her pet she ripped off her panties and cage and allowed her to cum absolutely everywhere. Emily grabbed onto my legs and then fell to the floor in a state of bliss. Shannon and I looked at her and giggled. It was hilarious to think that my once extra sweet and shy sissy was lying there, covered in cum, wearing pink panties, a bra and an innocent sundress that was now totally ravaged.
Now THAT was one hell of a fun time with my sissy girl Em!! Who's looking for some sissy fun next? I've never met a sissy I didn't love and I know I'll love playing with you too. I book up fast so you better come into our chat room and reserve some time with me. I'm there every night from 9:30pm EST – 3 am EST. I hope to see you there!
Avery xo
1-844-332-2639 ext. 228
http://phonesexcandy.com/avery/
http://teenbabesphonesex.com/avery/
Want to read more of my hot blogs?
http://tlcphonesex.com/author/avery/
http://phonesexcandy.com/author/avery/
http://teenbabesphonesex.com/author/avery/
http://sinfullysexyphonesex.com/author/avery/